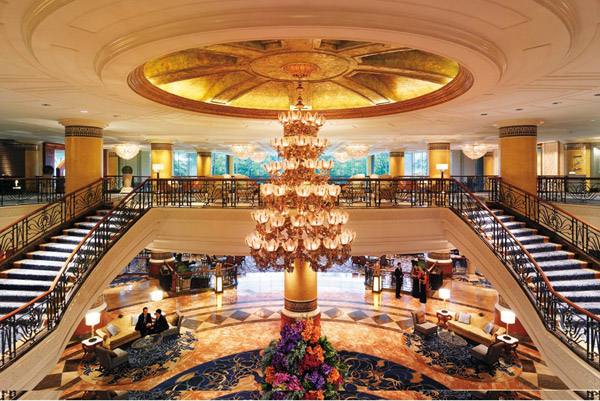 Hailed as one of the world's top eco-tourism destinations, the Philippines and her 7,107 islands offer stunning biodiversity, incomparable diving and pristine white sand beaches from Palawan to Boracay. Yet Manila, the sprawling metropolis that is her capital, poses somewhat more of a challenge for a green-conscious traveler.
Once known as the "pearl of the orient," Manila—a stitched-together aggregation of 16 once-separate cities—has in our time become synonymous with poor air quality and rampant pollution. Fortunately, recent decades have seen multiple public efforts introduced to revitalize and restore some of the city's endangered natural resources, including her storied Manila Bay, even as concerned citizens and enterprising businesses introduce private-sector initiatives.
The luxurious Makati Shangri-La Hotel has introduced a host of eco-friendly programs in recent years to save natural resources while reducing energy consumption. For these it has received the Association of Southeast Asian Nations (ASEAN) Green Hotel award in 2008 and again in 2010. Shangri-La Hotels and Resorts, which currently owns or manages more than 80 hotels under the Shangri-La brand, was the only Asia-Pacific-based hotel group chosen to be listed on the Dow Jones Sustainability Index in 2013.
A progressive approach
Even hotels hoping to roll out green initiatives, though, are often constrained by the practicalities of working within older buildings, or within a municipality where infrastructure resources may be limited. So sometimes, especially in the developing world, it's the seemingly small improvements that shed light on an underlying progressive approach.
For example: Along with her sister Shangri-La hotels and resorts, the Makati Shangri-La took the bold environmental stand (in Asia) of ceasing to serve shark fin soup, a horribly destructive delicacy. Each year, an estimated 100 million sharks are caught, de-finned and left to die (to learn more, watch the sobering but outstanding documentary film Sharkwater). Soon thereafter, the Shangri-La group also stopped serving other endangered species, including blue fin tuna and Chilean sea bass.
Taking a tour of the hotel's small-but-vibrant rooftop herb garden (where lemongrass, rosemary and mint grow abundantly and which I am told will soon be expanded), I speak with head gardener James Russell, who has been tinkering with innovative natural pest control. Indeed, Russell—a former employee of the government's environmental program—thinks he may have found an effective way to replace toxic pesticides used to control aphids and mosquitos.
To combat aphids, Russell's recipe is quite simple: take 100 cigarette butts (if you've traveled in the Philippines, you know there's no shortage of cigarette butts!), a small piece of hand soap (say, a quarter of a bar—again, no problem, especially in a big hotel) and add them to a quart of water; let the brew steep for 48 hours. Then simply use a spray bottle to squirt the plant leaves as needed. It works!
For mosquitos, Russell sows rows of marigolds, catnip, and citronella on the periphery of the garden, and their strong smell alone is enough to repel the pesky buggers, thereby protecting hotel guests as they sip refreshing San Miguel Pale Pilsen nearby.
And when you're planning your trip to Manila, be sure to check out Sustainable Manila, a wonderful online resource for organic and sustainable foods.